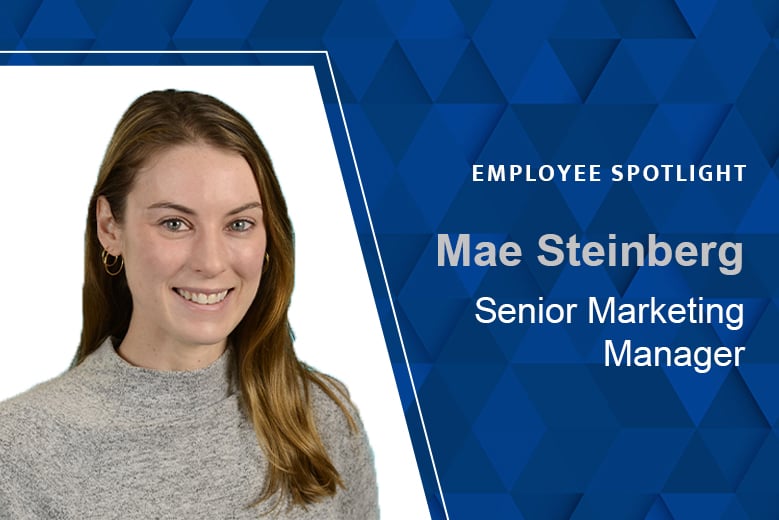 Say hello to Mae Steinberg, Energetiq's Senior Marketing Manager! Mae has been here for five years and has seen a lot of exciting things happen for the company. We spoke with her recently to talk about her favorite things about the company, as well as the industry as a whole.
What is your favorite part about

Energetiq?
It's hard to choose one favorite part of working here, but I think it boils down to the continued opportunities for growth, fast pace, and overall feeling of being accepted and appreciated for who I am.
This job is so far from what I expected. I joined Energetiq in January 2017, about 10 months before we were acquired by Hamamatsu. We were ramping up production of the TLS-EQ-77 and knocking down walls to expand the office space all at the same time. It's been a delight to watch Energetiq continue an upward trajectory and an amazing career opportunity for me to grow right along with the company.
I also love that we "walk the walk" when it comes to creating a corporate culture of inclusivity, innovation and constant improvement. I have attended a lot of different webinars, events, and trainings and have read a great deal about diversity, equity, and inclusion and it is so gratifying that Energetiq is doing so many of the "best practices" already.
What is a fun fact about yourself that somebody may not know?
I was included in Laser Focus World's 2021 Rising Stars Awards. It was so unexpected and such a great honor. To be immersed so heavily in this industry for the last five years and then be included in one of the leading publications was humbling and gave me an opportunity to reflect on how much I've grown while working at Energetiq.
Why did you choose this industry?
I am not sure that I can say I "chose" this industry so much as it chose me. I am so grateful that I landed the role at Energetiq when I did and have found such an amazing community in the optics and photonics and semiconductor industries.
I was working as a technical writer for an Energetiq customer when I came across the opening for a Marketing Specialist at Energetiq. The role checked off a lot of the things that I was looking for in an employer. I was thrilled to see so many women in leadership roles and appreciated the technology and customer-centric culture.
Although I have had close family members work in semiconductor manufacturing for most of my life, I cannot say that I understood the significance and relevance of the industry. It seemed highly technical and removed from my day-to-day life. As I learned about how our products are used and the likelihood that I own devices with components that have been touched by Energetiq-created photons I realized it's really not that far removed at all.
These days the global semiconductor chip shortage has pushed the industry into the spotlight. It's a common topic for the evening news and the significance of the industry has never been more apparent. I'm so excited to see the investments being made here in the US to bolster production and that this critically important industry is getting the attention it deserves.
Thanks, Mae!
---
Learn more about our expertise in high-brightness applications and how we can support your next light source solution.