TLS-EQ-9
Flexible, Stable Tunable Broadband Light Source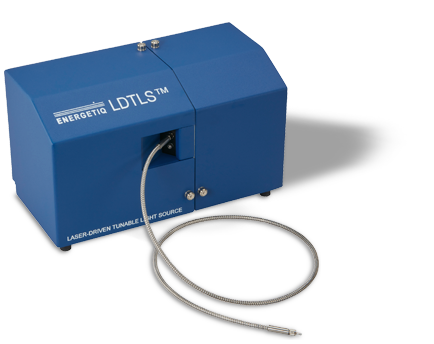 Flexible Spectral Resolution & High Throughput Results
The TLS-EQ-9 is based on the EQ-9 LDLS, offering mid-range output power in a flexible, easy-to-use package.
The spectral resolution of the TLS-EQ-9 is user-configurable, allowing users to select different bandwidths for different applications. The stable performance of the TLS-EQ-9 translates to consistent, reliable results, while the fast step time and high brightness enable high process throughput.
TLS-EQ-9 is extremely easy to use and maintain. The intuitive graphic user interface (GUI) allows for the creation of automated scans to rapidly step between prescribed wavelength bands. The fiber-coupled output of the TLS-EQ-9 makes it simple to integrate into a variety of optical configurations.
Request More Information
Are you looking for more information on this product family? Fill out the form to request a quote, demo, or additional technical information.
Features
Fast wavelength tuning
Configurable/flexible spectral resolution
Low noise & high stability
User friendly computer interface
Convenient optical fiber output
Aberration free collection and focusing
Adjustable Bandwidth
A kit of removable monochromator slits is available for purchase with the TLS-EQ-9. The kit contains three (3) additional pairs of slits to adjust the size of both the entrance and exit slit of the monochromator.
| Slit Size | Bandwidth (FWHM) |
| --- | --- |
| 1 mm* | 6 nm |
| 0.5 mm | 3.5 nm |
| 0.25 mm | 2 nm |
| 0.10 mm | 1.5 nm |
*Standard slit size shipped with system
In-Band Light Flux Comparison
Average in-band light flux with standard output fibers. For reference only.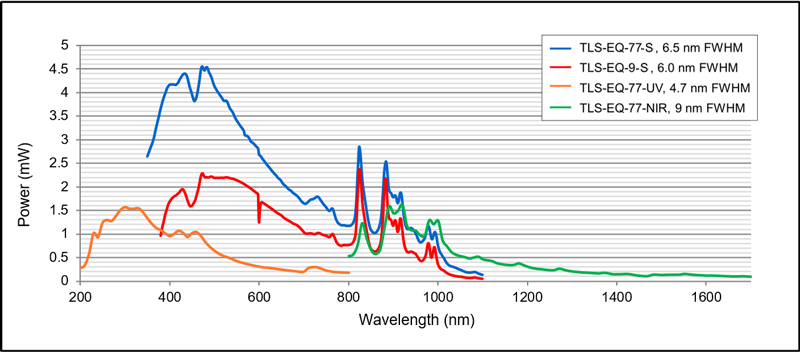 | Product Properties | |
| --- | --- |
| Wavelength Range | 380 nm – 1100 nm |
| Wavelength Accuracy | +/- 0.5 nm |
| Scan Speed | <20 ms for a 2 nm step |
| Output Type | 1500 µm fiber​ optic cable |
| Numerical Aperture | 0.39 NA |
| Spectral Resolution | 6.0 nm |
| Laser Class | Class 1 (IEC 60825: 2014) |
| Typical Performance | |
| --- | --- |
| Maximum In-Band Flux | 2.37 mW at 824 nm |
| Average In-Band Flux | ~1.20 mW |