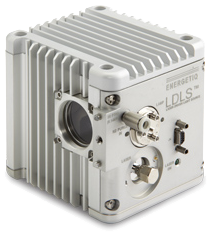 EQ-99X LDLS
Compact, High Brightness,
Broadband Light Source
The compact EQ-99X is an ultra-high brightness, high stability broadband source that is specifically designed for demanding imaging and spectroscopy applications. The EQ-99X offers excellent spatial and power stability for highly repeatable measurements across the broad spectrum. Utilizing a patented laser-driven bulb technology* the EQ-99X is ideal for applications requiring ultra-long lamp life. The EQ-99X is available with a range of free-space broadband reflective coupling optics to match the ~100µm plasma size to the customers instrument or application. With its high brightness, small plasma, the EQ-99X is particularly well suited to applications using narrow spectrometer slits, small diameter optical fibers or other small étendue optics.
Features & Benefits
CW laser plasma discharge
- 100µm - 200µm plasma size
Very high brightness across spectrum
- UV-Vis-NIR (170nm - 2100nm)
Eliminates need for multiple lamps
- Replaces D2/Tungsten/Xenon Arc
Excellent spatial and power stability
- Repeatable measurements
Ultra-clean construction
- Improved stability & extended life
Electrodeless operation for long life
- Reduced cost of ownership
Industry Applications
UV-Vis-NIR Spectroscopy
Monochromator Source
Thin-Film Measurements
Optical Component Testing
Environmental Analysis
Materials Characterization
Gas Phase Measurements
Advanced Imaging/Illumination
Applications requiring long lamp life

The Technology Behind LDLS™
Researchers using light for imaging and analytical spectroscopy in a variety of applications in the life sciences and materials sciences need light sources capable of providing extremely high brightness across a broad wavelength range. Traditionally, multiple lamps (Tungsten/Halogen, Xenon-arc, Deuterium) have been used to cover this broad spectral range. However, combining multiple lamps is costly and optically inefficient, and the use of electrodes within these lamps limits their ability to achieve the high brightness or power needed for the most demanding applications. Furthermore, traditional electrode-driven light sources have short life, need to be changed frequently, and during their life the lamp output declines constantly. To address this problem, Energetiq has developed a revolutionary single-light source technology called the LDLS™ Laser-Driven Light Source that enables extreme high brightness over a broad spectral range, from 170nm through visible and beyond, combined with lifetimes an order of magnitude longer than traditional lamps.




Energetiq's innovative LDLS technology uses a CW laser to directly heat a Xenon plasma to the high temperatures necessary for efficient deep ultraviolet production. In traditional approaches such as arc and deuterium lamps, the brightness, UV power, and lamp lifetime are limited by the use of electrodes to couple power to the plasma. The electrodeless LDLS technology creates small, high brightness plasma that allows efficient light collection, broad spectral range from the deepest UV through visible and beyond, and long lamp life.




*Patent Numbers:
US: 7435982; 7786455; 7989786; 8309943; 9048000; 9185786
Japan: 5410958; 5628253
Korea: 10-1507617
UK: GB2450045
OTHER PATENTS PENDING