Extreme Ultraviolet Light Sources
Compact, Reliable EUV Using Electrodeless
Z-Pinch™ Technology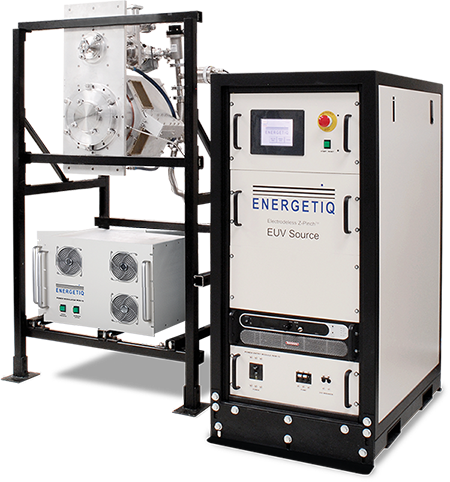 Modular Design for Easy Integration
Energetiq's uniquely designed EUV light sources minimize heat load and reduce debris, giving you control over peak brightness and peak power in a compact, modular unit.
Advancements in fields such as semiconductor lithography, mask blank inspection, materials research and life sciences research rely on plasma-based light sources that generate radiation between the deep ultraviolet and x-ray regions (10 to 50 nm). Traditional method of producing extreme UV light uses electrodes, which generate heat and produce unwanted debris – not suitable for production environments.
Energetiq's Electrodeless Z-Pinch™ EUV sources use a patented design that inductively couples the current into the plasma to generate ultrashort-wavelength UV radiation in a clean, cool way. The modular design delivers high up-time and field-proven reliability with the flexibility of user-controlled outputs for optimized power and brightness.
Ease of use and reliability suitable for photoresist R&D
Minimal heat load
Excellent spatial stability
High repetition rate
Stable, repeatable power output
Simple, flexible optical interface
CE Mark and SEMI S2-0715 compliant
Request More Information
Are you looking for more information on this product family? Fill out the form to request a quote, demo, or additional technical information.
Electrodeless Z-Pinch™ Technology
Clean Operation, Small Plasma Size, and Maximum Flexibility
Energetiq's unique technology is also based on a Z-pinch plasma, but it avoids electrodes entirely by inductively coupling the current into the plasma. The plasma in the Energetiq source is magnetically confined away from the source walls, minimizing the heat load and reducing debris.
EQ-10R
EQ-10R-HP
EQ-10R-SXR

10 W*

20 W*

400 mW✝

5 W/mm².sr

8 W/mm².sr

N/A

Up to 2 kHz

Up to 2.5 kHz

Up to 2 kHz

Xenon

Xenon

Nitrogen

Research & Development

Metrology
Microscopy
Inspection

Water-Window Microscopy
Optics Testing
*Power into 2π steradians (13.5nm ±1% bandwidth).✝Power into 2π steradians (2.8nm line emission).
Note: Performance measures in this Selection Guide are typical values for guidance in the selection and use of the EQ-10 Series products. They are not to be taken as specifications. Please Contact Energetiq for further details: info@energetiq.com.