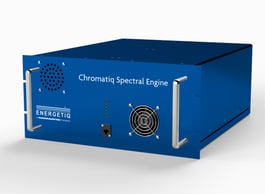 Chromatiq Spectral Engine
High-Fidelity Spectrum Matching
The Chromatiq Spectral Engine (CSE™) is a sophisticated light source capable of matching real-world lighting conditions or programmed spectra.

The CSE offers unparalleled spectral match accuracy, repeatability, and speed to optimize optical testing and calibration procedures in the production environment. It allows users to emulate real-world lighting conditions, combine spectra from multiple sources, and create unique, dynamic spectra to fulfill demanding applications. It offers unparalleled spectral match accuracy, spectral resolution, and repeatability across an unmatched dynamic range.
The CSE has been developed with automated calibration workflows in mind and easily integrates into any optical test protocols. The host application includes sophisticated automated spectrum matching algorithms and a flexible user interface that enables system configuration, spectrum matching, creation of custom spectra, and definition of trigger sequences.
CSE-EQ-99-VIS Performance Specifications:
Wavelength Range
380 nm – 780 nm
Spectral Resolution

<

4.5 nm
Switching Speed

<

100

ms

Output Type
6.5 mm liquid light guide
Example Match: CIE F12
Beta systems available now for on-site demonstration. Full release planned in 2022.