EQ-10R-HP
Electrodeless Z-Pinch™
20 Watt EUV Source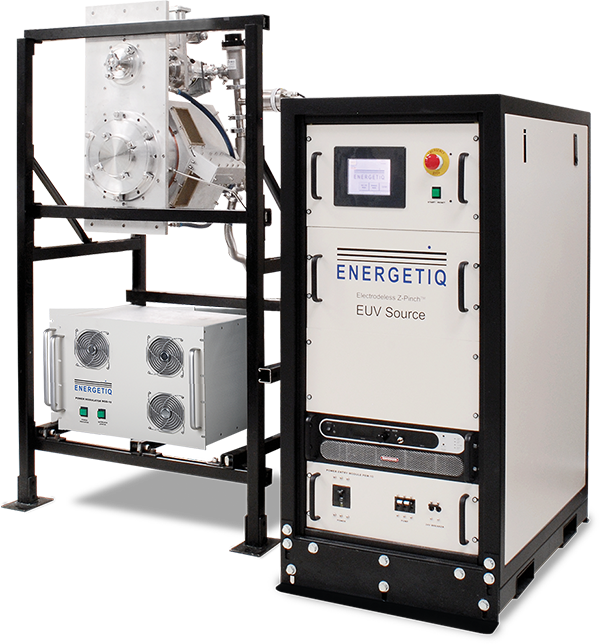 High Brightness for EUV Metrology and Inspection
With 20 watts, the EQ-10R-HP is ideal for EUV mask inspection, resist development, and more.
High pulse repetition rates and low cost per EUV watt make the EQ-10R-HP a highly effective light source powered by our Xenon-based Electrodeless Z-Pinch™ technology. With over 30 EQ-10 units installed around the world, it has become the workhorse for the EUV community through its proven reliability, ease of use, and low operating cost. Its modular design makes it easy to integrate into your process.
The system includes the Electrodeless Z-Pinch™ source assembly, vacuum and gas subsystems, power delivery subsystem, and control electronics. The EQ-10R-HP is capable of delivering up to 20 Watts of in-band EUV into 2pi steradians, and will run continuously at pulse repetition rates of up to 2.5 kHz.
Request More Information
Are you looking for more information on this product family? Fill out the form to request a quote, demo, or additional technical information.
Features
Unique patent-pending Electrodeless Z-Pinch™ technology
Low debris / low consumable cost

20 W into 2 pi using Xenon
Higher brightness and power for a wide variety of applications
Small plasma size
Below 1 mm diameter
Cost-effective and compact
Low cost per EUV Watt
Small footprint
CE-Mark and SEMI S2-0715 compliant
Applications
EUV Mask Inspection
EUV Metrology
EUV Resist Development
EUV Microscopy
Electrodeless Z-Pinch Technology
Clean Operation, Small Plasma Size, and Maximum Flexibility
Clean operation with no electrode debris and magnetically confined plasma
Unmatched spatial stability
Lower cost and complexity
Flexible, adjustable operating conditions
Optimized for peak power or peak brightness
Small plasma size (typically below 1mm in diameter)
Simple, flexible, customizable optical interface with color touch screen display
Manual and automatic operation
*Patent Numbers:
US 7,307,375 -- US 7,948,185 -- DE 1774838 -- DE 2187711 -- GB 1774838 -- GB 2187711 -- JP 5179175 -- KR 10-1173324
NL 1774838 -- NL 2187711 -- US 8,143,790 -- US 7,199,384 -- US 7,183,717 -- US 7,569,791 -- US 8,019,043