LDLS® Selection Guide
With a variety of products available, it's important to choose the Laser-Driven Light Sources that will deliver the best performance for your application. Use our LDLS selection guide to compare specifications of each Energetiq LDLS product.
Get the full product comparison and determine which Energetiq LDLS is right for you. Complete the form to get your copy!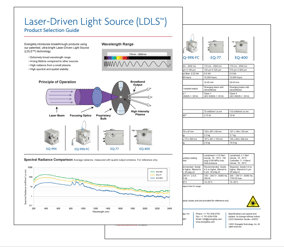 Get the complete selection guide
EQ-99X
EQ-99X-FC
EQ-77X
EQ-400

170 nm – 2500 nm

190 nm – 2500 nm

170 nm - 2500 nm

170 nm - 2500 nm

100 µm X 180 µm

100 µm X 180 µm

125 µm x 320 µm

370 µm x 800 µm

0.47 NA

Output fiber: 0.22 NA

0.5 NA

0.5 NA

Lifetime (hours between bulb changes)

10,000 hours

10,000 hours

10,000 hours

10,000 hours

Distance of Plasma from Ouput Window*

20.1 mm

N/A

13.7 mm

19 mm

Diverging beam

Fiber coupled output

Diverging beam with retroreflector

Diverging beam with retroreflector

Class 1
(IEC 60825-1: 2014)


Class 1
(IEC 60825-1: 2014)


Class 1
(IEC 60825-1: 2014)


Class 4
(IEC 60825-1: 2014)

| | EQ-99X | EQ-99X-FC | EQ-77 | EQ-400 |
| --- | --- | --- | --- | --- |
| Spectral Radiance at 500 nm | 25 mW/mm².sr.nm | N/A | 75 mW/mm².sr.nm | 110 mW/mm².sr.nm |
| | 0.75 W | 95 mW** | 2.75 W | 15 W |
*Measured with thermopile; **UVFIBERX-230 fiber optic cable