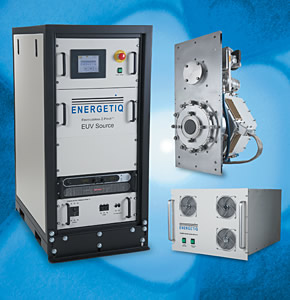 EQ-10
Electrodeless Z-Pinch™
10 Watt EUV Source
Researchers into the emerging technology of EUV lithography need a source of EUV photons for a variety of applications. Existing sources of light are often too low in power, unreliable in operation, large, costly and complex.

The EQ-10 is a compact, easy-to-use, reliable, and cost-effective EUV light source, based on Energetiq's proven Electrodeless Z-pinch™ technology using Xenon gas. The EQ-10 EUV source is uniquely suited for metrology and research applications. With over 30 delivered and installed around the world, the EQ-10 series have become the workhorse EUV source for the EUV community, through its proven reliability, ease of use, and low operating cost.

The Energetiq EQ-10 EUV Source's modular design makes it ready to be integrated into a process tool. The system includes the electrodeless Z-pinch source assembly, vacuum and gas subsystems, power delivery subsystem, and control electronics. The EQ-10 is capable of delivering up to 10 Watts of in-band EUV into 2pi steradians, and will run continuously at pulse repetition rates of up to 2 kHz.


Features & Benefits
Unique patent-pending electrodeless Z-Pinch technology
- Low debris / low consumable cost
10W into 2pi using Xenon
- Sufficient power for a wide variety of applications
Up to 2 kHz repetition rate
- Continuous mode, 24/7
Small plasma size
- Below 1mm diameter
Cost-effective and compact
- Low cost per EUV Watt
- Small footprint
CE-Mark and SEMI S2-0715 compliant
Industry Applications
EUV Metrology
EUV Resist Development
Defect Inspection
EUV Microscopy

To accommodate the differing requirements of the various applications, the source operating conditions are user-adjustable. The EUV light output can be optimized for peak power or for peak brightness as required by the user. Plasma size is typically below 1mm in diameter under typical operating conditions. A simple and flexible optical interface is provided to the user on the side of the system enclosure to connect to the application equipment. Custom interfaces are available to meet specific customer requirements. The user interface operates by a color touch screen display, and incorporates menus allowing manual and automatic operation.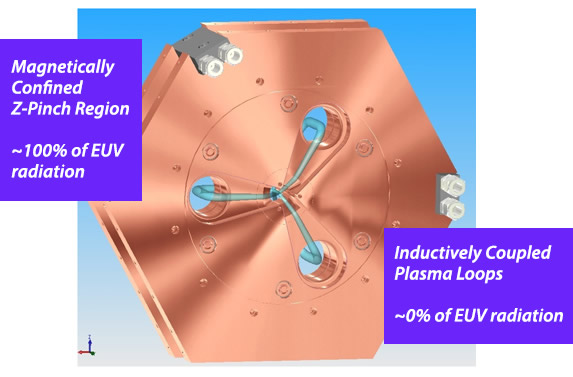 *Patent Numbers:
US 7,307,375 -- US 7,948,185 -- DE 1774838 -- DE 2187711 -- GB 1774838 -- GB 2187711 -- JP 5179175 -- KR 10-1173324
NL 1774838 -- NL 2187711 -- US 8,143,790 -- US 7,199,384 -- US 7,183,717 -- US 7,569,791 -- US 8,019,043.