EUV Selection Guide
Our unique Electrodeless Z-Pinch™ EUV Sources are optimized for peak power and performance. To determine which of our products pairs best with your application, review our product selection guide to compare specifications and fill out the form on this page to discuss with a product expert.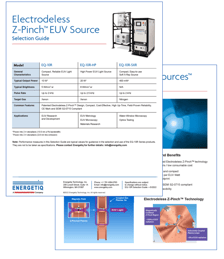 Download the full Selection Guide
EQ-10R
EQ-10R-HP
EQ-10R-SXR

10 W*

20 W*

400 mW†

5 W/mm².sr

8 W/mm².sr

N/A

Up to 2 kHz

Up to 2.5 kHz

Up to 2 kHz

Xenon

Xenon

Nitrogen

EUV Research & Development

EUV Metrology
EUV Microscopy
Materials Research

Water-Window Microsopy
Optics Testing
*Power into 2π steradians (13.5nm ±1% bandwidth).✝Power into 2π steradians (2.8nm line emission).
Note: Performance measures in this Selection Guide are typical values for guidance in the selection and use of the EQ-10 Series products. They are not to be taken as specifications. Please Contact Energetiq for further details: info@energetiq.com.