Join Our Team
There's an innovative spirit here at Energetiq. We're doers, problem solvers, and explorers. Our line of work demands creative solutions to complex problems.
Join our dynamic and growing technology company, working with a team of engineers and scientists bringing new products from development to production. You'll have all the benefits of working with a close, inclusive team while being part of a global organization and customer base.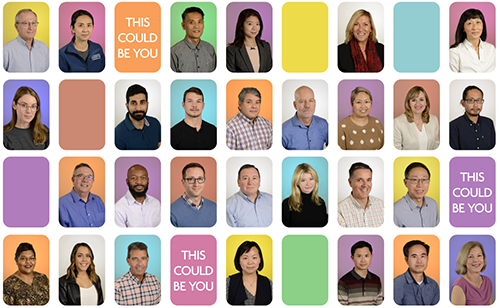 Culture, Diversity & Inclusion
Corporate culture starts at the top, and our leadership team is passionate about fostering connections within our own team. Monthly Innovation Day gives teams the chance to work on new ideas and consider different perspectives, while weekly social activities help create a more open and supportive culture.
Diversity, equity, and inclusion are natural elements of our daily operations. Our Action for Diversity Pledge isn't just a promise – it's signed, supported, and implemented through our "Day of Understanding" initiative with four separate sessions dedicated to expanding DEI awareness across our organization.
Outside of the office, we support local organizations such as SpeakOUT Boston, the National Society of Black Engineers (NSBE) Boston Professionals, and the Greater Boston Food Bank. We're proud sponsors of science lessons at local schools designed to inspire an early interest in photonics and encourage young girls to consider STEM careers.
At Energetiq and within the communities we live in, diversity is key to finding creative solutions and new product ideas that will push us into a new frontier of optics and photonics.
Hear from our CEO Debbie Gustafson in episode of the 3DInCites podcast our CEO Debbie Gustafson joins other semiconductor industry leaders in a discussion about the importance of diversity and inclusion in attracting and retaining talent.
Benefits
At Energetiq, we value the dedication and contributions of our people and make every effort to invest in top-tier benefits that meet their needs both at work and at home. Take advantage of our competitive benefits packages including:
Medical and dental insurance for individuals and families with no waiting period
Vision care
Life insurance and short- and long-term disability with group rates
Pre-tax health savings account, health care reimbursement account, and dependent care
401(k) retirement plans with company match
Paid vacation and holidays
Fitness benefits
Professional development reimbursement
Employee assistance program
Matching charitable gifts
Tuition reimbursement
We encourage active lifestyles with:
Free, organic fresh fruit every Monday and Wednesday
Healthy competitions keep us walking, running, and cycling individually and in teams
Employee Resource Groups
At Energetiq we are all about collaborating and working together to solve unique challenges. Our Employee Resource Groups (ERGs) are open to all employees and meet a few times each month to ensure everyone at Energetiq feels welcome and seen for the full person they are.
Our ERGs currently include:
Diversity, Equity and Inclusion (DEI) Committee
Social & Mixology Club
Mental & Physical Wellness Group
Environmental Club
Mentorship Program


Leadership Team
The expertise and experience of the company's leadership enables excellence in rapidly evolving industries. Energetiq's leadership team is committed to continuous innovation and is driven by dedication to the customer and every employee.
Values and Vision
Our team is driven by integrity, reliability, and accountability. Not only do we strive to deliver innovative products for our customers, but we also look to cultivate the next generation of leaders within our employees.
Look Inside
From collaboration areas and quiet spaces devoted to spurring innovation to our new customer showroom and R&D laboratories, the Energetiq headquarters is designed for sustainability and growth.