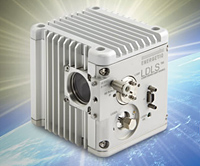 Woburn, MA, January 28, 2013 – Energetiq Technology, a world leader in ultra-high brightness light sources for advanced technology applications, introduces the EQ-99X and EQ-99XFC enhanced performance Laser-Driven Light Sources at Photonics West 2014.
Based on the highly successful EQ-99 series of Laser-Driven Light Sources (LDLS™) , the EQ-99X-Series offers ultraclean construction for greater long-term stability and longer operating life. The EQ-99XFC LDLS with fiber-coupled output features new Fiber-Protection Technology™, shown to improve long-term deep ultraviolet output by an order of magnitude.
"These are exciting enhancements to our industry-leading Laser-Driven Light Sources," said Paul Blackborow, CEO of Energetiq. "With the new ultra-clean construction and Fiber-Protection Technology, the X-Series LDLS products will deliver to our customers even brighter, even more stable, broadband Laser-Driven Light Sources."
LDLS X-Series products include:
EQ-99X – Compact, Long-Life, High-Brightness, Broadband Laser-Driven Light Source
EQ-99XFC – Compact, Long-Life, High-Brightness, Broadband Laser-Driven Light Source with Fiber-Coupled Output
Energetiq's LDLS products are cutting edge light sources that produce extreme high brightness over a broad spectral range, from 170nm to 2100nm (UV-Vis-NIR). Combined with 10X the lifetime of traditional xenon and deuterium lamps, the LDLS products enable higher performance spectroscopy or imaging applications at lower cost of ownership. The
EQ-99 LDLS series received the prestigious R & D 100 Award in 2011 for its technological significance, and a 2011 Prism Award for Photonics Innovation.
About Energetiq Technology, Inc.
Energetiq Technology is the world's leading developer and manufacturer of ultra-bright broadband light sources for a wide variety of advanced applications in life and materials sciences, semiconductor manufacturing, and R&D. Energetiq's light sources are based on a revolutionary laser-driven light source technology that generates high brightness across the spectrum, with high reliability and long operating life in a compact package. More information about Energetiq is available at
www.energetiq.com
.