EQ-400 Water Cooling

Authors: Ron Collins
Introduction
The EQ-400 Laser-Driven Light Source (LDLS™) requires active water cooling. Energetiq provides a basic component set for typical installations, but customer specific requirements may lead to the need for customized solutions. This document will cover the basic requirements and suggested chiller and cooling lines, as well as, additional information that should be sufficient for the end-user to customize their own individual solutions if preferred.


Recommended Chiller & Accessories
Energetiq recommends the following model chiller and accessories. Please visit https://www.smcusa.com/contact/global-locator/ to locate the distributor for pricing and delivery information.
| | | |
| --- | --- | --- |
| Item | Part Number | Specifications |
| Chiller | SMC Series #HRS018-A-XX-T | 100/115 VAC: HRS018-A-10T or 200/230 VAC: HRS018-A-20T |
| By-Pass Piping Kit | SMC #HRS-BP001 | |
| Filter Housing Kit | SMC #HRS-PF003 | |
System Minimum Requirements
Cooling Power: 1,500 watts (5,118 BTU/hr)
Flow:
- Controller - 3.0 liters/min (0.79 GPM) minimum
- Lamp - 1.0 liters/min (0.26 GPM) minimum
Temp: 18°C -24°C (64°F – 75°F)
Recommended Cooling Configuration
The recommended cooling configuration is to connect the controller and lamp head in series using the optional Energetiq 10m chiller kit which includes a 5.0m supply & 5.0m return line.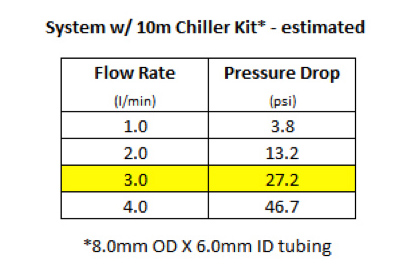 For other configurations, including longer cooling hose lengths, the flow vs pressure data of the individual components is provided below as design guidelines for user-provided cooling systems. If cooling hose lengths are increased, use of larger diameter hose is recommended.
Measured Pressure Drop vs. Flow Rate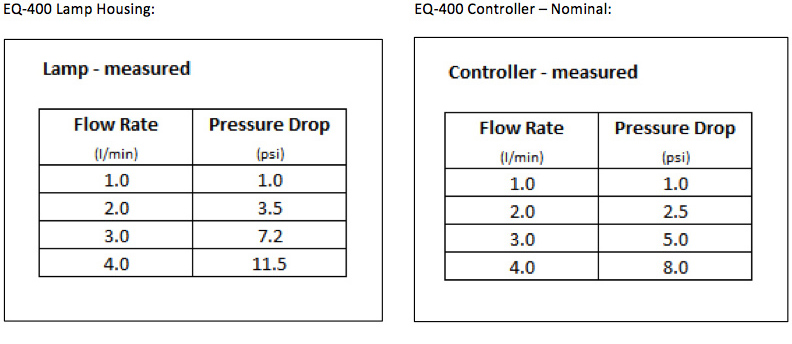 < Back to list of technical papers
View PDF format >